Quotes
"I'm getting overwhelmed by this pizza."
"I'll take a coat hanger to my chonch anytime. I don't care."
"It looks like a ham sandwich with hair shavings."
"Look guys, I molest children."
Gallery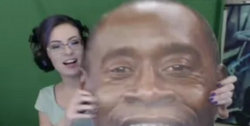 Trivia
Owns giant cardboard cut out heads of Nicholas Cage, Don Cheadle, and others.
Owns a box full of card board heads.
Is a Trans Timmy Turner.
Will lick Fritos Brand Flavor Twists Honey BBQ seductively for charity for Galen on 24 Hours For Galen #2.
Will date Johnny Ringo, only if he keeps his neckbeard.
Has a blue shag carpet.
Sounds like Twilight Sparkle, Pinkie Pie, Bubbles, Timmy Turner and generally most Tara Strong voices.
Links
Ad blocker interference detected!
Wikia is a free-to-use site that makes money from advertising. We have a modified experience for viewers using ad blockers

Wikia is not accessible if you've made further modifications. Remove the custom ad blocker rule(s) and the page will load as expected.